There are numerous types of landscaping shrubs. They can range in size from the smaller forms on up to the larger tree-like varieties. There are evergreen shrubs, which retain their color and leaves year round, and there are deciduous shrubs, which eventually lose their foliage after putting on a colorful fall show. Read on to learn more about landscaping shrubs and their uses.
Choosing Shrubs for the Landscape
Shrubs have many uses within the landscape such as foundation plantings, privacy hedges, and specimen plants. They can be used as backdrops, to define garden beds, and to simply add seasonal interest. Foliage differs from plant to plant, so look for foliage colors that will create a pleasing visual effect and subtle contrast to the other plants within the landscape. Fall foliage colors can range from silver, gold, and variegated varieties to red, purple, and dark green.
The best time to plant landscaping shrubs is in the fall or early spring, if necessary. This gives roots plenty of time to become established within the landscape, upping their chances of survival.
Before placing any shrub in the landscape, you should first consider the overall height and width of the shrub once it reaches maturity. There should be adequate space available for the shrub to grow. For instance, if a shrub is being used as a foundation planting, ensure that its mature growth will not block windows or obstruct walkways.
Also, consider the appearance of the shrub after its initial blooming period has ceased. Since the majority of shrubs are non-flowering most of the year, try to match them to the conditions of your particular landscape.
It is also very important that landscaping shrubs complement their surroundings. Therefore, it is also a good idea to research native shrubs as well as landscaping shrubs in order to become familiar with their growing conditions, especially in your given area.
Common Landscape Shrubs
Some of the most common landscaping shrubs include:
Azaleas/Rhododendrons –  Azaleas and rhododendronscome in a multitude of colors and their striking blooms are a welcome sight in spring. While they typically have a short-lived blooming cycle, many evergreen varieties will provide year-round interest. These shrubs are good choices for foundation plantings, borders, shade and woodland gardens, and specimen plants.
Forsythia shrubs – The yellow, spring flowers of forsythia provide much needed color after the dull, darkness of winter. Other than its obvious aesthetic purpose, this easy-care shrub makes a great choice for screening and can even soften corners around the landscape.
Hydrangea shrubs – Hydrangeas are also quite popular in the landscape. There are various forms available (pink, blue, and white), and their clustered, summer-flowering blooms are spectacular. Hydrangea shrubs work well in woodland gardens, informal borders, and as specimen plantings.
Rose of Sharon – Available in a variety of colors including pink, purple, and white, this shrub not only makes an excellent accent in the landscape but also provides good screening when grouped together along property lines. This shrub can also be used to create lovely backdrops for smaller shrubs and garden plants. Rose of Sharon shrubs may require seasonal pruning to prevent them from having an untamed appearance, especially when planted near the foundations of homes.
Boxwood shrubs – Boxwoods are one of the most common evergreen landscaping shrubs. These are oftentimes used as foundation plantings as well as for edging. They are also ideal for creating walled gardens or privacy hedges.
Juniper shrubs – Another good evergreen shrub is juniper, with the low-growing variety most commonly used within landscapes. These shrubs are well suited for filling in empty spaces between other, larger shrubs and trees.
Holly shrubs – There are many types of holly for the landscape. English holly, which is most common, is an evergreen shrub popular for its spiny-edged leaves and clusters of red berries, especially during winter. While this shrub can definitely stand on its own, it is commonly used in the landscape as a screening hedge or foundation planting.
Barberry – The barberry shrub is also commonly used in landscaping. This shrub has thick, green leaves that turn red in the fall and produces numerous berries as well. It is often used in mixed borders with taller shrubs, perennials, and grasses.
Some landscaping shrubs are used strictly for their pleasant aromas. These include:
Lilac shrubs – Lilacs are well known for their fragrant, lilac-colored blooms but they are also available in white and yellow varieties as well. These shrubs have compact forms and those that can get quite tall. Lilacs do well when massed together for screening or as backgrounds for borders. These shrubs can also stand on their own as specimen plantings.
Witch hazel – While witch hazel looks more like a tree than a shrub, it is definitely meant to be seen as well as smelled. The yellow, fall blooms enable it to blend in nicely with a background of evergreens and should be placed somewhere nearby so its sweet scent can be enjoyed.
Viburnum shrubs – The intense, sweet clove scent of viburnum shrubs shrubs is often used in foundation plantings or mixed borders.
Roses – Nothing can quite compare to the aromatic scents given off by roses. While these shrubs are often used simply for aesthetic purposes, they can also be used as attractive privacy hedges and foundation plantings.
Weigela – Weigela shrubs shrubs bloom profusely throughout spring and fall. Many varieties are available to choose from, including those that are variegated. Besides their stunning appearance, these shrubs can also be used in informal gardens or mass planted for hedges.
There are other ways to use shrubs in the landscape. Nearly any shrub can be successfully grown in containers; therefore, even the smallest of landscapes can be home to them, including balconies. They make excellent focal points and are ideal for screening. Whether you are considering using them for outlining boundaries, privacy and screening, foundation planting, or simply for specimen plants, you should always plan ahead in order to find the right landscaping shrub for you and your landscape.
Categories:

THE MANY BENEFITS OF MULCH:
Besides providing an attractive vista to any yard, the proper use of mulch offers a variety of benefits for both the property owner as well as the environment. Below is a small sampling of why you should implement mulch into your gardening and/or landscape plans.
Adding mulch reduces the amount of grassy area in your yard therefore reducing both mowing time, fuel usage, pollution, and water usage. In short, mulch is GREEN!
Mulch installed to the proper depth (3" or greater) provides an excellent barrier for weeds and other invasive plants.
Mulching reduces the amount of water needed for many plants and vegetation by keeping soil temperatures down thereby reducing evaporation.
Mulching reduces the need to use additional soil necessary for plants to grow while also limiting soil and other types of erosion.
Most quality mulchesdecompose over time thus adding valuable nutrients back into the soil. In essence, mulch is time-released composting!
Certain mulches—such as those composed of Cypress, Cedar, or Pine wood—are excellent at repelling and controlling a variety of pestilent insects; such as ticks, chiggers, gnats, etc.
Most natural wood mulches (non-dyed products) promote an increase in worm activity which is ALWAYS a good thing in any garden or yard. Worms love to eat the decaying mulch which in turn creates great soil! Over time, even hard clay soils can be broken down simply by mulching and subsequent worm activity!
In short, MULCH IS A GOOD THING TO DO! Not to mention that it looks GREAT!
THE MANY FACES OF MULCH:
The majority of mulches being used in today's gardens and landscapes are organic; simply meaning they are composed of once-living organisms, i.e., wood, grass, leaves, pine needles, nut casings, etc. For the sake of simplicity, this hub will focus on organic mulches since they are the most widely-used mulches today.
The primary ingredient for most mulch is wood, either from the core of the tree or the bark. The following is a list of primary wood sources for today's quality mulches.
White Oak: White Oak is one of the most common woods used for many quality mulches. Since it is a hardwood, when ground into mulch, White Oak maintains its golden-tan color for a season or two (with proper raking) and decomposes slower than double-ground bark mulch. White Oak also takes colorings very well and the core wood is often used as an excellent playground mulch.
The larger wood mulches (i.e., nuggets) are great for areas where soil erosion is an issue since they will not "drift" away in most rain events. They are slow to decompose and over time add to your soil. One drawback is that they are not very comfortable to walk on (in bare feet that is).
Cypress: Cypress is one of the most popular landscaping mulches for two reasons: Number one, it's very bug and insect resistant (thereby protecting your valued plants from unneccessary damage). And number two, Cypress is an excellent matting mulch; meaning that it stays together very well after installation providing better-than-adequate erosion control on sloped landscapes.
Cedar: Although it costs a little more, cedar mulch is worth the expense for three reasons: First, similar to Cypress, cedar is an excellent (if not better) insect repellent due to more natural oils found in the wood. Slugs, for example, won't come near it! Second, Cedar has a delightfully aromatic smell that lasts a fair amount of time after spreading; especially if turned somewhat frequently. And finally, Cedar decomposes rather quickly thus putting its valuable nutrients back into your soil faster.
Pine (In mulch and nugget form): Often overlooked in the mulch world is pine; which is a great mulch for a few reasons. First, pine mulch is another excellent matting mulch that does a great job at keeping soil erosion down (year round) and lowering soil temperatures during warmer months (therefore limiting water usage). Not to mention that its ability to insulate makes pine mulch very handy for winter gardeners trying to keep killing frosts at bay. Second, pine-bark nuggets are slow to decompose thus offering a great way to "pave" walkways or "pet highways" throughout your yard. And finally, pine mulch is relatively inexpensive, has better than average longevity, and in general, represents a great bargain!
Cedar, Cypress, and Pine mulches are all found in core and bark mulch form, make an excellent choice for softer-grade landscapes, and are especially suited for more-delicate garden areas. In addition, all three repel damaging insects, smell great, and decompose quicker than larger nugget mulches. These are my favorites!
OTHER TYPES OF MULCH…
In addition to the more-common wood mulches, a fair number of optional mulch choices are also out there; some of which in your own yard backyard.
Ground up tree leaves: Depending on what type of area you wish to mulch, shredded tree leaves are great for spreading under decks, along fence lines, and other areas where controlling mud and runoff are a problem. When I spread my large amount of shredded oak leaves each fall, I do so to a depth of at least 3″. That way, when they break down, I still have coverage. Over time, however, shredded leaves can raise the acidity of your soil; so monitoring pH levels from time time is not a bad idea.
Pine Needles: If you're fortunate enough to have Pine trees on your property, the dead and fallen needles provide an excellent covering basically year round. They look great, last a long time, and hold well when matted.
Pecan Shells: Pecan shells–as well as other nutshells–provide excellent ground coverage and look great doing so. Typically, a 2″ layer of pecan shells will typically last 2 years; so keep that in mind when you purchase them since they can be more expensive due to limited availability.
Grass Clippings: Even though it sounds odd, the grass clippings you bag (or not) as you mow are a very effective (and FREE) garden mulch! I've used grass clippings for years as a base covering below other mulches as well as a way to keep dust and mud down. Be careful, however, not to go beyond a 2″ depth as grass tends to mat as well as restrict air and water penetration. But when used as a control mulch only, grass clippings are great!
DYED, ORGANIC WOOD MULCHES:
What type of colored mulch to use, and where to use it, are important questions you as a gardener need answered. The following guide is based on my experience–as well as seasoned advice from a few professional gardening friends–as to the best colored garden mulch to use in the best situation. I hope it helps.
COLORED MULCHES:
The three, most-common dyed mulch colors are red, brown, and black; and each has its place. Reds are best suited for areas with lighter colored plants and trees/shrubs. They are also a great choice to complement rock gardens since their color retention leans to the long side. Reds are also used extensively in many commercial applications, i.e., around buildings and other public areas. Personally, I feel reds are best used over large areas. But this is just my opinion…
Brown mulches are another one of my favorites because they really make light and darker-colored plants and trees "POP" out of gardens and landscapes. The only drawback to browns is that they tend to lose their best color after one season. Browns are also an excellent choice for smaller areas.
Black mulches, similar to reds, are excellent commercial mulches due to longer-lasting color and their ability to work well in less-tended areas. For gardens, however, blacks are not the best choice since they tend to retain a fair amount of surface heat which can damage many plants.
HOW TO DETERMINE HOW MUCH MULCH YOU NEED:
In order to reap the full benefits of mulching, an overall depth of 3-4″ should be maintained. The process determining how much mulch you'll need is simple. First, you need to determine the total square footage of the area to be mulched. And second, depending on how much mulch is needed, use the following formulas:
To achieve a depth of 1″ divide your overall square footage by: 324
To achieve a depth of 2″ divide your overall square footage by: 162
To achieve a depth of 3″ divide your overall square footage by: 108
To achieve a depth of 4″ divide your overall square footage by: 85
CLOSING THOUGHTS…
How to choose the right mulch for your yard and/or garden is one of the most exciting tasks, I feel, during the entire gardening process; because in the end, your yard, your plants, and the environment in general all benefit. So, go green and get to mulching! You'll be glad you did.
Categories:
Easter flowers bring beauty and meaning to the Easter holiday. Many colorful varieties are used worldwide for gift giving, decorations and church services in celebrating the resurrection of Jesus Christ in Christianity and in celebration of spring and rebirth.
Lily
The white lily is considered the primary traditional Easter flower. It is originally from Japan. Americans started growing the Easter lily during World War II. The flower represents the purity and renewal of Easter. The shape of the flower petals are said to be the trumpet of God calling Jesus to return.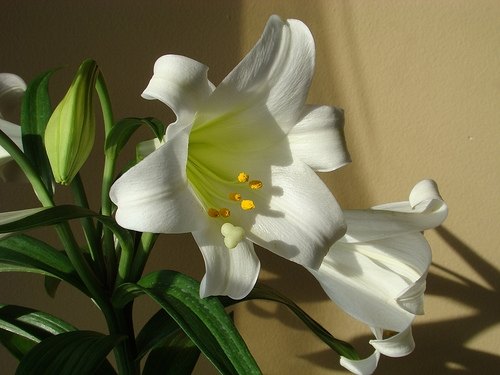 Daffodils
Daffodils are bright yellow trumpet-shaped flowers that symbolize friendship, rebirth and eternal life. According to legend, the daffodil first appeared in the Garden of Gethsemane and it bloomed during the time of Christ's resurrection. Daffodils are called Osterglocken (Easter bells) in Germany and are the favored flower for Easter decorations in England, where they are nicknamed Lent lilies.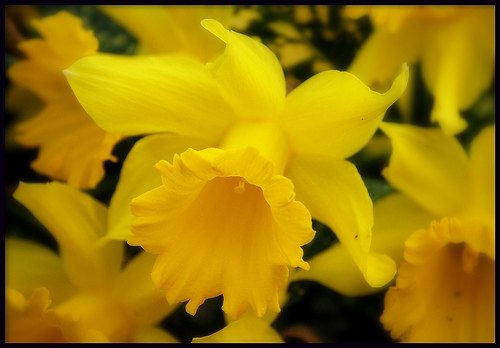 Tulips
Tulips are the third most popular spring flower worldwide. While it does not actually have a specific meaning for Easter except for wild tulips in the Middle East, it does represent the rebirth of spring and perfect love. An interesting odd fact about the tulip states that the bulbs can be used instead of onions in cooking.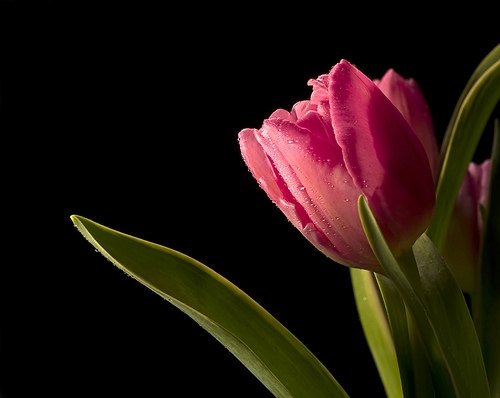 Narcissus
The narcissus was the first flower associated with Easter in parts of Europe. People in the Alps have valued the flower to symbolize Easter for centuries. It is the most popular flower in Germany.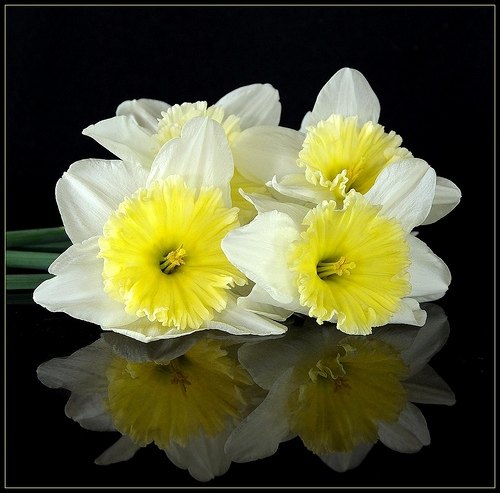 Pussy Willows
Pussy willows are not a common Easter flower because the blooms of a pussy willow are not always present at Easter. They do, however, play a part in the Easter traditions of Russia, England and Finland. Since palms for Palm Sunday, the week before Easter, are hard to obtain in some areas, pussy willows may be substituted for palms in Easter celebrations.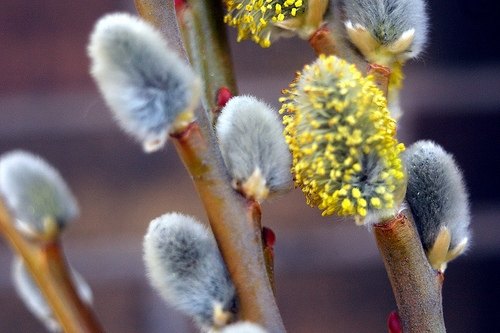 Categories:

Spring bulbs faithfully reappear at the most advantageous time – after a long, cold winter. Most spring bulbs are perennial and multiply in number every year. Seemingly carefree, bulbs do require a bit of nurturing ensuring that they perform their very best for years to come.
Good soil drainage is important to prevent bulbs from rotting so plan your site accordingly.
When planting bulbs in the fall, add a high phosphorus fertilizer to the planting hole for the development strong roots.
Bulb foliage will often break through the soil after a few warm winter days. This vegetation is hardy and its exposure to the cold will not damage your plants or prevent them from blooming.
Fertilize bulbs as plants are emerging from the ground. Do not fertilize once flowers appear. Use a 5-10-5 granular fertilizer to assist in foliage and flower development.
After blooming, cut back the flower stalk. This will force the plant to put its energy into the bulb for next year's flowers and not into seed production.
Allow the leaves to die back naturally. The leaves are vital for producing food that is stored in the bulb for next year's growth. Cut leaves; never pull, once they have turned yellow. Do not tie leaves as this reduces the leaf surface required for adequate food production.
When the foliage dies back the bulb is dormant, this is the proper time to dig and separate bulbs if necessary. Flowering will often be reduced when bulb beds become over-crowded. If division is needed, bulbs should be dug and stored in a well-ventilated place and replanted in the fall.
Fertilize bulbs again in the fall with a high-phosphorus, granular fertilizer.
Categories:
Garden Tips – March
Plan your vegetable garden on graph paper. Remember to rotate crops just like the farmers do. Tomatoes and Peppers use many nutrients from the soil and should be moved from year to year to prevent mineral deficiencies. Place birdhouses outside this month. Clean out any existing houses for new bird families to move in.
After pussy willows have bloomed, prune the shrubs drastically to encourage long branches and large fuzzy catkins for next year.
Remove mulch or covers from roses, clematis, perennials, and other tender plants after night temperatures remain in the 30′s. Be prepared to re-cover if a cold snap returns.
Touch up garden and landscape areas with a fresh layer of bark mulch.
Give your houseplants a good once over. Dust leaves with a moistened cloth, repot in fresh soil, and give them a boost with some water-soluble fertilizer.