Categories:
What a great time we had this past weekend at our Easter Egg hunt and Easter Bunny Visit! Stop on by this week for some great savings as well as checking out our new spring plant arrivals!
Don't forget our Mulch Madness sale is still going on!
Categories: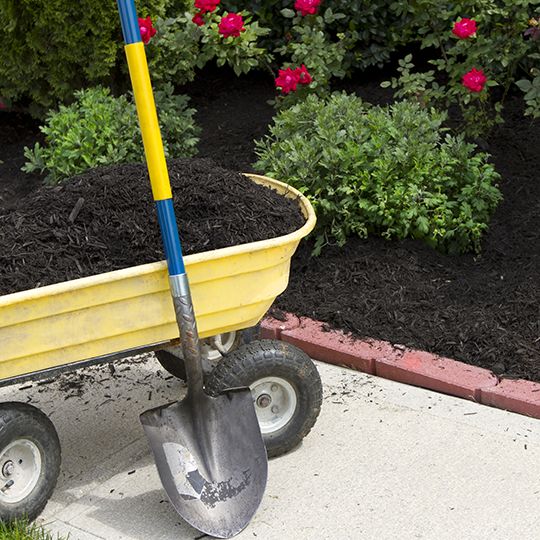 Mulching is a must for every yard. A properly applied layer of mulch provides a wealth of benefits to a landscape by suppressing weeds, enriching the soil, preventing moisture loss, regulating soil temperature, and more. Read on to learn five mulching tips that can help improve the health of your plants and soil.
1) Weed First
Mulch smothers weeds from growing by blocking their access to sunlight. Already existing weeds, however, can still grow without sun, so pull all weeds by the root in the area before applying mulch.
2) Winter Warning
Lawns often experience frost heaving in the winter. This is the process of the soil freezing and then thawing out, which causes a gradual expanding and contracting motion. This means that the soil swells and pushes out plants, exposing the roots to freezing temperatures. Mulching with evergreen boughs, chopped leaves, or straw can help keep your soil stay frozen until the final thaw at the beginning of spring.
3) The Rule of Trees
While gardens require the entire plant bed to be mulched, trees have different needs. An individual tree on your lawn should have a circle of mulch surrounding it. Start with a circle that measures 2′ in diameter and continue to add mulch as the tree grows, gradually increasing the size of the mulch circle. Make sure that the mulch does not touch the base of the tree trunk, though, as this traps moisture and invites disease and pests. The same goes for flower stems.
4) Depth Control
Generally speaking, the layer of mulch you apply should be about 2″ to 3″ thick. If your mulch is less than 2″ deep, it is less capable of retaining moisture. Any deeper than 3″ and the mulch will prevent plant roots from accessing sun, air, water, and other nutrients it needs. Too thick of a layer can also result in your plants taking root in the mulch instead of the soil.
5) Newsflash
Believe it or not, newspaper is an effective mulching material. It's great for smothering weeds by blocking the sunlight. It then decomposes into the soil (don't worry, it's non-toxic). Just cover a layer of newspaper with a more attractive organic mulch, like wood chips or bark, and enjoy your weed-free garden.
Categories:


There is no season when such pleasant and sunny spots may be lighted on, and produce so pleasant an effect on the feelings, as now in October.  ~~Nathaniel Hawthorne
Happy October!
This month we welcome fall, celebrate the harvest, decorate and carve pumpkins for Halloween, and create all sorts of yummy recipes with them. The worst of summer's heat should be over and cooler temperatures heading our way.
October is a great month in the garden too! It's a great time to take a fresh look around your garden, find tired perennials that need to be cleaned up, or divided and transplanted.  Do you see spots that could use brightening up with annual color? Do you have herbs that you'd like to harvest and preserve to use in the winter? Now is the time!
Replace your summer color with cool season annuals. Decorate your entryway with containers of mums and asters accented by colorful pumpkins and gourds and enjoy the beautiful weather. When you stop by our garden center, let us show you plants that have great fall color, berries, and flowers. Plant those now to enjoy in fall for years to come.
Take this helpful checklist with you into your garden:
October Garden Checklist:
Divide perennials and replant them; cut back faded blooms and dead foliage
Fall is for planting – plant new perennials, trees and shrubs
Transplant existing trees and shrubs as needed
Plant cool season annuals like African daisies, sweet peas, pansies and snapdragons– remember to water them regularly while temperatures are still warm
Also plant cool season edibles like lettuce, spinach, cabbage, carrots, peas, broccoli, and cauliflower
Plant bulbs now for a brilliant spring show
On your porch and patio –protect your furniture and grill. Slip-on covers will protect them during the winter
To add color throughout the winter, place brightly colored container gardens filled with annuals throughout your garden.
Categories:
The garden is at its peak, and long days offer ample time for picking fresh flowers and sun-ripened produce.
Temperatures Soar and Color Sizzles
Some plants thrive as summer heats up. If your perennial beds lack color, try a few of these plants that flower through sweltering August afternoons. All are drought-tolerant once established.
Black-eyed Susan (Rudbeckia spp.) brightens the garden with cheery yellow blooms perfect for cutting. It's a good choice for a wildlife garden. Flowers beckon butterflies; seed heads are a goldfinch favorite.
Russian sage (Perovskia atriplicifolia) unfurls silvery foliage accented with lavender blooms. Plants are deer-resistant.
Threadleaf tickseed (Coreopsis verticillata) opens daisylike blooms in shades of yellow, white, or pink. Low-maintenance plants have fine foliage and open flowers steadily until frost.
Yarrow (Achillea) sounds a steady note of drought-resistant color in the summer garden. Look for flowers in many shades, from white, to red, to peach, to yellow.
Test Garden Tip: Even the most reliable summer bloomers stage a stronger show when you faithfully remove faded flowers.
August Watering Tips
Water plants a few hours before applying pesticides, especially during times of drought. In these conditions, plants have less water in tissues, and as pesticides enter cells, they may burn leaves.
Avoid watering during midday, when more water will evaporate than soak into soil.
It's not uncommon for plants to wilt on hot afternoons even though soil has adequate moisture. The wilting occurs because plants are losing water faster than their roots can absorb it. Leaves should revive by early evening, after the sun is no longer directly on leaves. If not, water deeply.
Some shrubs need weekly deep watering now. Rhododendrons are beginning to form flower buds for next year's show, and adequate water is vital. Fruiting plants, such as hollies and firethorn, need water to ensure berries mature and don't drop.
Test Garden Tip: Water newly planted trees, shrubs, and perennials — any plants you added to your yard last fall or spring. These plants need weekly irrigation to ensure roots establish deeply.
Garden-Fresh Flavors from the Herb and Vegetable Garden
Peppers: Pick peppers at any stage of development. The longer fruits stay on a plant, the more intense flavor becomes — sweet peppers grow sweeter, and hot peppers develop a stronger burn.
Herbs: It's best to pick herbs before they flower. Harvest herbs on a dry morning, after dew has dried. The exception is mint, which you want to pick at midday, when essential oil concentrations in leaves are greatest. Avoid harvesting herbs following a rain, when foliage is wet.
Tomatoes: Even though tomatoes continue to ripen after picking, fruits develop greatest flavor when allowed to ripen on plants. The exception is cherry tomatoes, which are prone to splitting. Pick these tasty morsels as soon as fruits start showing color.
It's Time to Stop…
Fertilizing roses. Stop feeding roses this month so that growth can harden sufficiently before killing frost arrives. This will help reduce the amount of winter kill.
Pruning evergreens. As August arrives, put away the pruners as far as evergreens are concerned. If you prune now, you risk plants pushing new growth, which won't harden off and will be killed during winter's chill.
Ignoring zucchini. Daily inspections of squash vines are a must. In August heat, small, tasty fruit can transform into inedible baseball bats overnight.
Composting weed seeds. Unless your compost pile gets hot enough to kill seeds, it's best to destroy weeds with seed heads. If your town has a community composting facility, place seedy weeds at the curb. The community compost will be hot enough to kill seeds.
August Garden Chores for the Northeast
Pull annuals that are past their prime and aren't likely to recover. Cover bare soil to deter weeds.
Take cuttings of plants you want to overwinter. Choices may include fuchsia, scented geranium, coleus, or wax begonia. Stick 3- to 4-inch green stem cuttings in soil. Place pots in a shaded spot, and keep soil moist.
Make sure mower height is raised so you're cutting grass higher. When grass is taller, it shades soil beneath, which reduces water evaporation from soil. Taller grass generally has deeper roots, which helps it withstand drought better.
September is peony planting time. That means August is the month to order peony roots. You should have peonies in the ground about a month before the average first frost date.
Here's some helpful Summer lawn and garden tips:
Chores and Maintenance
– If rain is lacking, practice water-wise horticultural techniques

– Determine which plants are most important, and water them first
– Water plants early in the day through drip irrigation or hand-held hose with shut-off nozzle
– Re-apply mulch to plantings to help conserve moisture
– Allow lawns to go dormant; they will green up again when rain returns
– Continue to remove weeds that compete for water
– Continue to stake floppy plants and vines
– Mow lawns regularly to keep grass height at 2 to 2 1/2″
– Continue to aerate and moisten compost pile to speed decomposition
– Continue to apply acid mulch to azaleas and rhododendrons, and other ericaceous ornamentals
– Apply a summer mulch to rose beds to preserve moisture and control weeds
– Deadhead annuals and perennials to encourage continuous bloom, and cut back any rampant growth
– Continue to spray roses weekly with a baking soda fungicide (See June for the recipe)
– Remove any fallen leaves and debris that can harbor insect pests and disease organisms
– Pinch back asters and chrysanthemums one last time
– Finish deadheading rhododendrons and lilacs
– Continue to apply deer repellent
Categories:
Biennial Plant Information: What Does Biennial Mean
One way to categorize plants is by the length of the plant's life cycle. The three terms annual, biennial and perennial are most commonly used to classify plants due to their life cycle and bloom time. Annual and perennial is fairly self explanatory, but what does biennial mean? Read on to find out.
What Does Biennial Mean?
So what are biennial plants? The term biennial is in reference to the plant's longevity. Annual plants live just one growing season, performing their entire life cycle, from seed to flower, in this short period of time. Only the dormant seed is left to cross over into the next growing season.
Perennial plants live three years or more. Usually, the top foliage dies back to the ground each winter and then regrows the successive spring from the existing root system.
Basically, biennials in the garden are flowering plants that have a two-year biological cycle. Biennial plant growth begins with seeds that produce the root structure, stems and leaves (as well as food storage organs) during the first growing season. A short stem and low basal rosette of leaves form and remains through the winter months.
During the biennial's second season, biennial plant growth completes with the formation of flowers, fruit and seeds. The stem of the biennial will elongate or "bolt." Following this second season, many biennials reseed and then the plant usually dies.
Biennial Plant Information
Some biennials require vernalization or cold treatment before they will bloom. Flowering may also be brought about by the application of gibberellins plant hormones, but is rarely done in commercial settings.
When vernalization occurs, a biennial plant may complete its entire life cycle, from germination to seed production, in one short growing season; three or four months instead of two years. This most commonly affects some vegetable or flower seedlings that were exposed to cold temperatures before they were planted in the garden.
Other than cold temperatures, extremes such as drought can shorten the biennial's life cycle and compress two seasons into a year. Some regions may then, typically, treat biennials as annuals. What may be grown as a biennial in Portland, Oregon, for example, with a fairly temperate climate, would likely be treated as an annual in Portland, Maine, which has far more severe temperature extremes.
Biennials in the Garden
There are many fewer biennials than perennial or annual plants, with most of them being types of vegetables. Keep in mind that those biennials, whose purpose is for flowers, fruits or seeds, need to be grown for two years. Climatic conditions in your area which are unseasonably cold, with lengthy periods of frost or cold snaps, affect whether the plant will be a biennial or an annual, or even if a perennial appears to be a biennial.
Examples of biennials include:
Categories:

Spring bulbs faithfully reappear at the most advantageous time – after a long, cold winter. Most spring bulbs are perennial and multiply in number every year. Seemingly carefree, bulbs do require a bit of nurturing ensuring that they perform their very best for years to come.
Good soil drainage is important to prevent bulbs from rotting so plan your site accordingly.
When planting bulbs in the fall, add a high phosphorus fertilizer to the planting hole for the development strong roots.
Bulb foliage will often break through the soil after a few warm winter days. This vegetation is hardy and its exposure to the cold will not damage your plants or prevent them from blooming.
Fertilize bulbs as plants are emerging from the ground. Do not fertilize once flowers appear. Use a 5-10-5 granular fertilizer to assist in foliage and flower development.
After blooming, cut back the flower stalk. This will force the plant to put its energy into the bulb for next year's flowers and not into seed production.
Allow the leaves to die back naturally. The leaves are vital for producing food that is stored in the bulb for next year's growth. Cut leaves; never pull, once they have turned yellow. Do not tie leaves as this reduces the leaf surface required for adequate food production.
When the foliage dies back the bulb is dormant, this is the proper time to dig and separate bulbs if necessary. Flowering will often be reduced when bulb beds become over-crowded. If division is needed, bulbs should be dug and stored in a well-ventilated place and replanted in the fall.
Fertilize bulbs again in the fall with a high-phosphorus, granular fertilizer.
Categories:
JANUARY
Garden Tips – January
Brush snow from evergreens as soon as possible after a storm. Use a broom in a upward, sweeping motion. Serious damage may be caused by heavy snow or ice accumulating on the branches. Give suet to the birds to help give them energy. Peanut and berry flavors are the best sellers. If you have some time this winter, paint the handles of you garden tools red or orange. This will preserve the wood and make the tools easier to locate next summer when you lay them down in the garden or lawn. Check Daniel's for new garden seeds. Stopping in to our sunny greenhouse on a cold winter day will give you an instant feeling of spring.