Categories:
Landscaping Services
With Daniel's Lawn & Garden Landscaping services we can help you create your ideal outdoor living space. Let our expert staff show you how!
Our Landscaping Service includes:
Residential and Business Projects
Creation and Installation of Garden Beds, Walls, Walkways, and Patios.
Installation of Trees, Shrubs
Grading, Seeding, and Installation of Lawns
Above Ground Pool Installation
We are ICPI certified, fully insured, and offer FREE ESTIMATES. References available on request.
PA Contractor License #PA013212
If you are interested in developing a 'do it yourself' project, then consider our new in-house landscaping design program. We'll provide you with the guidance and direction to do it right the first time. Contact our staff to schedule a 30 minute in-store consultation. We also offer other home improvement project services…please inquire and we can help you with your needs.
Our landscaping services are available throughout Bucks, Montgomery, Chester, Lehigh and Berks Counties and not limited to the following areas: Harleysville, Skippack, Trappe, Collegeville, Perkasie, Souderton, Telford, Vernfield, Schwenksville, Red Hill, Green Lane, Pennsburg, Sellersville, Dublin, and Quakertown.
Our finished project gallery will be available on our website in the near future.
Categories:
Temperatures Soar and Color Sizzles
Some plants thrive as summer heats up. If your perennial beds lack color, try a few of these plants that flower through sweltering August afternoons. All are drought-tolerant once established.
Black-eyed Susan (Rudbeckia spp.) brightens the garden with cheery yellow blooms perfect for cutting. It's a good choice for a wildlife garden. Flowers beckon butterflies; seed heads are a goldfinch favorite.
Russian sage (Perovskia atriplicifolia) unfurls silvery foliage accented with lavender blooms. Plants are deer-resistant.
Threadleaf tickseed (Coreopsis verticillata) opens daisylike blooms in shades of yellow, white, or pink. Low-maintenance plants have fine foliage and open flowers steadily until frost.
Yarrow (Achillea) sounds a steady note of drought-resistant color in the summer garden. Look for flowers in many shades, from white, to red, to peach, to yellow.
Test Garden Tip: Even the most reliable summer bloomers stage a stronger show when you faithfully remove faded flowers.
August Watering Tips
Water plants a few hours before applying pesticides, especially during times of drought. In these conditions, plants have less water in tissues, and as pesticides enter cells, they may burn leaves.
Avoid watering during midday, when more water will evaporate than soak into soil.
It's not uncommon for plants to wilt on hot afternoons even though soil has adequate moisture. The wilting occurs because plants are losing water faster than their roots can absorb it. Leaves should revive by early evening, after the sun is no longer directly on leaves. If not, water deeply.
Some shrubs need weekly deep watering now. Rhododendrons are beginning to form flower buds for next year's show, and adequate water is vital. Fruiting plants, such as hollies and firethorn, need water to ensure berries mature and don't drop.
Test Garden Tip: Water newly planted trees, shrubs, and perennials — any plants you added to your yard last fall or spring. These plants need weekly irrigation to ensure roots establish deeply.
Garden-Fresh Flavors from the Herb and Vegetable Garden
Peppers: Pick peppers at any stage of development. The longer fruits stay on a plant, the more intense flavor becomes — sweet peppers grow sweeter, and hot peppers develop a stronger burn.
Herbs: It's best to pick herbs before they flower. Harvest herbs on a dry morning, after dew has dried. The exception is mint, which you want to pick at midday, when essential oil concentrations in leaves are greatest. Avoid harvesting herbs following a rain, when foliage is wet.
Tomatoes: Even though tomatoes continue to ripen after picking, fruits develop greatest flavor when allowed to ripen on plants. The exception is cherry tomatoes, which are prone to splitting. Pick these tasty morsels as soon as fruits start showing color.
It's Time to Stop…
Fertilizing roses. Stop feeding roses this month so that growth can harden sufficiently before killing frost arrives. This will help reduce the amount of winter kill.
Pruning evergreens. As August arrives, put away the pruners as far as evergreens are concerned. If you prune now, you risk plants pushing new growth, which won't harden off and will be killed during winter's chill.
Ignoring zucchini. Daily inspections of squash vines are a must. In August heat, small, tasty fruit can transform into inedible baseball bats overnight.
Composting weed seeds. Unless your compost pile gets hot enough to kill seeds, it's best to destroy weeds with seed heads. If your town has a community composting facility, place seedy weeds at the curb. The community compost will be hot enough to kill seeds.
August Garden Chores for the Northeast
Pull annuals that are past their prime and aren't likely to recover. Cover bare soil to deter weeds.
Take cuttings of plants you want to overwinter. Choices may include fuchsia, scented geranium, coleus, or wax begonia. Stick 3- to 4-inch green stem cuttings in soil. Place pots in a shaded spot, and keep soil moist.
Make sure mower height is raised so you're cutting grass higher. When grass is taller, it shades soil beneath, which reduces water evaporation from soil. Taller grass generally has deeper roots, which helps it withstand drought better.
September is peony planting time. That means August is the month to order peony roots. You should have peonies in the ground about a month before the average first frost date.
Categories:
What you may not know is that soaking in the hot tub can have several other positive effects on our bodies and overall health. Below are just some of the benefits of soaking in the hot tub that you might not be aware of.

1. Improves sleep
Have you ever noticed how quickly you tend to fall asleep after taking a late night bath or a dip in the hot tub?
When your body is cold, your normal sleeping pattern can be disturbed. When your body is comfortably warm, you tend to fall asleep quicker and rest through the night with fewer disruptions.
It is widely accepted that getting quality, REM sleep has a multitude of positive effects on just about everything – from your mood to your mental alertness and even the way your body metabolizes food.
To improve your chances of getting a good night's sleep, try spending some time in the hot tub before getting into bed.
2. Reduces stress and anxiety
Along with making you feel temporarily relaxed, studies show that the combination of the hot water, the massage of the jets, and the feeling of weightlessness can significantly reduce both mental and physical stress and decrease anxiety.
Experts note that when you're not feeling physically and mentally stressed, you're less likely scowl at neighborhood teenagers, which means you're less likely to get teepee'd in the middle of the night.
Don't get teepee'd – get in the hot tub!
3. Reduces arthritic and chronic pain
For people suffering from skeletal ailments such as arthritis, carpal tunnel, tendonitis, and other types of bodily aches and pains, spending time in the hot tub will typically provide some much-needed relief.
Due to the buoyancy from the bubbles created by the tub's jets, we feel our own weight disappear, our blood circulation increases with the heat, the tightness in our muscles relaxes, and inflammation in our sensitive joints is reduced.
In this state, an aching body can experience heightened flexibility, strength, and a wider range of physical motion. It's no wonder so many people see significant benefits from hydrotherapy when recovering from back, knee, or other joint problems.
4. Lowers blood sugar
While further studies are still recommended, initial research indicates that spending time in the hot tub may actually lower the blood sugar level of people suffering from type 2 diabetes.
In one study, published in The New England Journal of Medicine, subjects with type 2 diabetes spent a half hour, six days per week for three weeks submerged to the shoulder in a hot tub. By the end of the three weeks, the subjects saw an average drop in blood glucose (BG) levels from 182 mg/dl to 159 mg/dl.
Essentially, the hot temperatures in the tub simulate some of the effects of physical exercise – which has proven to be an effective form of treatment for sufferers of type 2 diabetes.
5. Lowers blood pressure
In addition to lowering levels of your blood sugar, relaxing in the hot tub can also lower your blood pressure.
When you get in the tub and the temperature is hot, your heart works harder and faster so that your body can disperse excess heat. In the process, your increased blood flow is producing extra oxygen and your cells are being revitalized. While there may be an initial uptick in blood pressure, your increased warmth will cause cells to dilate, decreasing resistance against the heart and lowering your overall blood pressure.
It should be noted that those with high blood pressure should avoid going back and forth between the hot tub and the pool, as this may increase blood pressure.
6. Promotes Healthier, Younger Looking Skin
If you're pondering ways to get your skin looking its best, soaking in the hot tub might not be the first strategy that comes to mind – unless it's a hot tub filled with Neutrogena.
[NOTE: Do not soak in hot tubs filled with Neutrogena]
What you may not have considered is that some of the effects of using the hot tub have a direct influence on the health and appearance of your skin.
As mentioned above, regular use of a hot tub has shown to lower levels of stress and anxiety. Stress and anxiety are leading causes of premature aging, which means the hot tub can be a tool to help combat premature aging.
Furthermore, when you're experiencing increased circulation in the hot tub, that means your blood is more efficiently delivering vital oxygen and nutrients to your skin – giving you a healthy, youthful glow.
7. Decreases Frequency of Migraines and Tension Headaches
When you suffer from chronic headaches, like migraines, there simply aren't a ton of treatment options, so relief is a hard thing to come by. Fortunately, there is some evidence to suggest that regular dips in the hot tub may in fact help to prevent certain types of headaches.
How can sitting in a hot tub possibly help with headaches? Well, consider some of the more common triggers of headache, like tension.
Migraine sufferers often report experience tension headaches right before the migraine. In the hot tub, you're muscles aren't contracted, your aches and pains subside, and you feel overall more relaxed – thus decreasing the chance of experience a tension-triggered migraine.
Also, sufferers of sinus and cluster headaches experience episodes when they're stuffed up; spending time in the steamy hot tub – along with using nose drops and drinking fluids – is a good way to fight congestion and prevent these types of headaches.
The Health Benefits of Soaking in a Hot Tub Infographic
Hot tubs not only provide an excellent way to relax with your friends and family, but it is also beneficial to your health. That's right!
Happy Soaking!
Categories:
Easter flowers bring beauty and meaning to the Easter holiday. Many colorful varieties are used worldwide for gift giving, decorations and church services in celebrating the resurrection of Jesus Christ in Christianity and in celebration of spring and rebirth.
Lily
The white lily is considered the primary traditional Easter flower. It is originally from Japan. Americans started growing the Easter lily during World War II. The flower represents the purity and renewal of Easter. The shape of the flower petals are said to be the trumpet of God calling Jesus to return.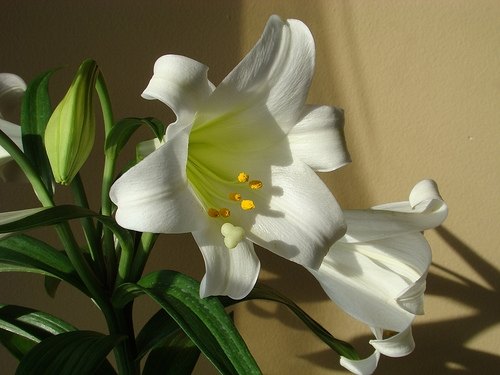 Daffodils
Daffodils are bright yellow trumpet-shaped flowers that symbolize friendship, rebirth and eternal life. According to legend, the daffodil first appeared in the Garden of Gethsemane and it bloomed during the time of Christ's resurrection. Daffodils are called Osterglocken (Easter bells) in Germany and are the favored flower for Easter decorations in England, where they are nicknamed Lent lilies.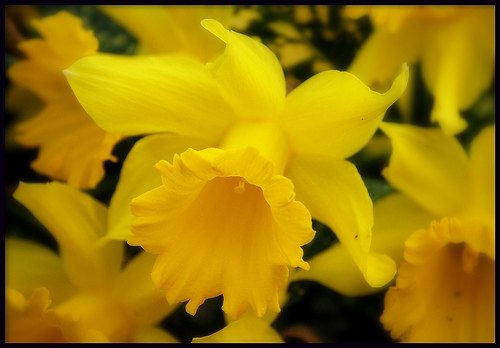 Tulips
Tulips are the third most popular spring flower worldwide. While it does not actually have a specific meaning for Easter except for wild tulips in the Middle East, it does represent the rebirth of spring and perfect love. An interesting odd fact about the tulip states that the bulbs can be used instead of onions in cooking.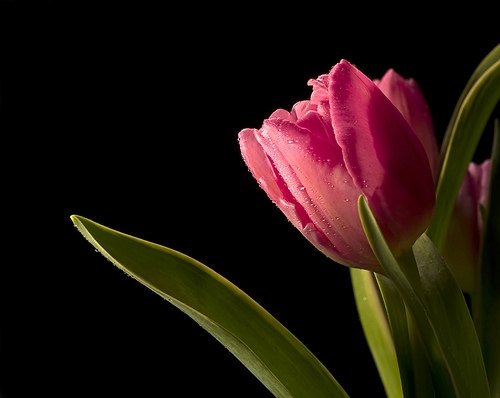 Narcissus
The narcissus was the first flower associated with Easter in parts of Europe. People in the Alps have valued the flower to symbolize Easter for centuries. It is the most popular flower in Germany.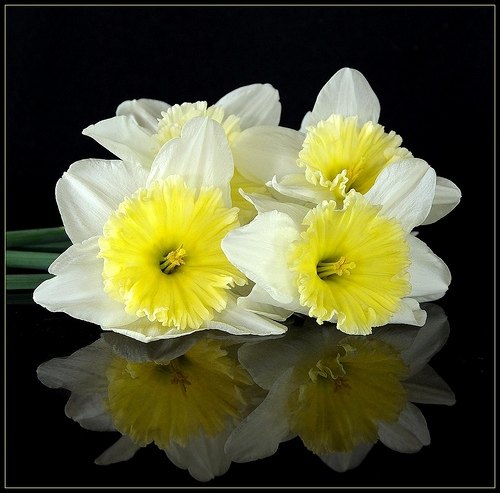 Pussy Willows
Pussy willows are not a common Easter flower because the blooms of a pussy willow are not always present at Easter. They do, however, play a part in the Easter traditions of Russia, England and Finland. Since palms for Palm Sunday, the week before Easter, are hard to obtain in some areas, pussy willows may be substituted for palms in Easter celebrations.