Categories:
The Best Vegetables to Plant in Early Spring
Start Them Early, but Enjoy Them for Weeks
The first vine-ripened tomato may still be a few months away, but there's plenty to keep you busy in the vegetable garden. Take advantage of the cool, wet weather of spring to put in multiple crops of peas and lettuce. It's also a great time to get your perennial vegetables, like asparagus and rhubarb, started.
Asparagus

Photo: © Marie Iannotti

There are many perennial vegetables – vegetables you can plant once and harvest for many years to come – but we only seem to grow a handful of them in our gardens. It's true you have to devote space to them, sometimes for decades, but it's worth it. Asparagus plants get more productive every year, and a mature harvest can last for months. Looking forward to the first tender, pencil-sized spears of asparagus poking through in the garden is a rite of spring. If you thought you didn't like…MORE asparagus, you haven't tried it freshly picked.
Lettuce

Carol Sharp Corbis/ Documentary/ Getty Images

The cool, wet weather of Spring is the perfect time to grow lettuce, and there are hundreds of varieties to choose from. Lettuce may take a little protection to get it going in the early spring, but, oh, it never tastes better than when it's grown in the crisp spring air. You will get the earliest and longest harvest from the cut-and-come-again varieties. Lettuce may require a little frost protection in spring, but it won't bolt, and you will probably have time for 2-3 succession plantings.
Peas

Emmanuelle Grimaud / Getty Images

There's a tradition of planting the first peas on St. Patrick's Day. Many of us don't always get to take part in that tradition because of the snow covering our vegetable gardens. However, even in years when you can manage to get out there early, the peas planted later in April will quickly catch up to the peas planted in March. Peas don't like freezing temperature, but they dislike heat worse. So don't miss the window of opportunity. Get out there and plant a crop of your favorites, whether…MORE its shelling peas, snow peas or sugar snap peas.

Rhubarb

Photo: © Marie Iannotti

Rhubarb is a vegetable we prepare like a fruit, and it is the first sweet "fruit" of the season. Rhubarb is another perennial gem of the vegetable garden. It really is a shame rhubarb is so underused in cooking, because it's very easy to grow. Once you get your bed established, you can look forward to a rhubarb harvest every spring. One word of warning: the rhubarb crown quickly turns into a very dense brick that is hard to divide. If you need to move your rhubarb or want to divide the…MORE plant, do it while the plant is young before it has time to develop strong roots.
Spinach

Tracy Packer Photography / Getty Images

Spinach must be grown in cool weather, or it will quickly bolt to seed. There are varieties that claim to be bolt-resistant, but sooner or later, (usually sooner), they all go to seed. Luckily it also grows extremely quickly – which means you don't have to wait long to enjoy it, but you'll also have to keep planting new spinach, to extend the harvest. Getting spinach to grow is easy. Keeping your spinach growing takes some extra care, but it's worth it. Fresh spinach is crisper, tangier and…MORE more tender than any you'll find in a cellophane bag. And it can grow in the shade of crops that will be taking off just as your spinach fades.
Vegetables That Are Perfect to Plant in Late Summer
The long dog days of summer are here as the days are hotter and the sun sets late into the night. Any cool season vegetable you had in your garden are at the end of their days and warm season veggies are still going strong. Now it is time to grow vegetables that are perfect to plant in late summer for the fall.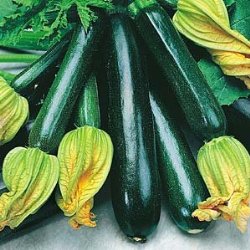 Organic Heirloom Black Beauty Zucchini Seeds
Squash
Squash plants encompass many different subspecies of plants. In the squash family you have cucumbers, zucchini from yellow crookneck to pattypans to green beauties. Then add in your winter squash like acorn, butternut, and gourds. Don't forget the many varieties of pumpkins that also fall into this category from Jack O'Lanterns to minis and sugars to Giants. All of these plants are perfect to get into your garden around the 4th of July.
Winter squash is planted in the summer and then can overwinter for months at a time. Planting pumpkins in July allows them to be ready to carve by Halloween and cooked up for pumpkin pie by Thanksgiving.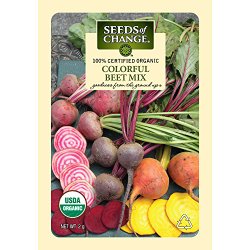 Seeds of Change Certified Organic Beet Mix
Root Vegetables
A few root vegetables do best when planted in late summer and then come to maturity in the cool days of fall. This is the perfect time to plant beets, turnips, fennel, kohlrabi, and radishes. You can also get in a few succession plantings of carrots if you live where you get cool summer nights. Bunching onions like scallions and garlic chives also do great when planted in late summer.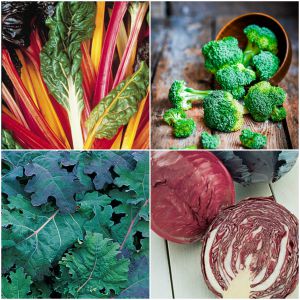 More fall vegetables you can plant now!
Greens
Quite a few green vegetables do best when planted in late summer. This allows the seeds to warm up and germinate, but the plant matures as the nights get longer and cooler. Start from seed Swiss Chard, kale, collard greens, cabbage, broccoli, and spinach. These plants will need to be well watered until the summer heat dies down to build a healthy root system.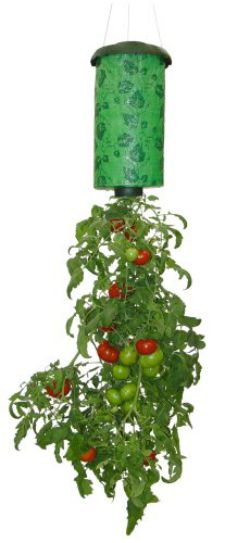 Tomatoes
Tomatoes are a true heat-loving plant! When grown in late summer, start with transplants instead of seeds as it is too warm for them to germinate. Once the temperatures drop below 75 degrees then the plant will flower and produce buds. Tomatoes like to produce in the sweet spot between 55° and 75° which is perfect fall weather!
Do you have a favorite vegetable you are planting now for fall harvest? If so, what is it!?