Categories:
The main purpose in winterizing your swimming pool is to protect it from damage due to freezing water. You also want to keep your swimming pool as clean as possible for the next season. Closing your swim pool properly can save you a lot of work when it comes time to open the above ground swimming pool for the summer.
The first step in the winterization procedure is to make sure your water chemistry is balanced. You should make sure that your pH, Total Alkalinity, and Calcium Hardness are all balanced. By balancing your water chemistry you are protecting the surface of the above ground pool from staining and etching. Adding a winterizing chemical kit to your water will help keep it blue and clear for the next season. Be sure to follow the manufacturer's instructions for the kit.
Do not use a floater that contains a strong oxidizer (chlorine or bromine) as the floater will stick against the wall and stain and/or bleach your wall, especially a vinyl liner. For the same reasons DO NOT throw chlorine or bromine tablets into the above ground pool. They will sink to the bottom and damage your above ground pool's surface.
When water freezes, it expands. This can cause great damage to your above ground pool, pool plumbing, and its filter system. If you are closing up your above ground pool for the winter, you should always take precautions to protect from freeze damage no matter where you live. You can never be sure that it will not drop below freezing, even in the Sun Belt.
Lower swimming pool water level below the mouth of the skimmer. This will get the water out of the throat of the skimmer which can be easily damaged if water were to freeze here.
Another option is to put an Aquador over the mouth of the skimmer. This is a plastic dam which holds out the water from the skimmer, allowing you to leave the water level up for the winter.
The water left in the pool, along with air pillow(s) will help in supporting your cover.
Drain all the water from your filter equipment and hoses.

Start by putting a plug in your return fitting (where water returns to above ground pool).
Disconnect your hoses from the return and skimmer or at the filter system and drain them.
The filter should have a plug at the bottom that will allow it to drain.
Put the multiport valve in the closed or "winterize" position and remove the pressure gauge.
Drain the pump by removing the drain plug(s). There may be two plugs to remove here.
After draining the pump, turn it on for a brief second to get the water out of the veins of the impeller. Do not run the pump more than a second or two because you can burn out the seal very quickly.
If possible take the pump inside to protect it for the winter.
If you have a chemical feeder, you should have let the chemicals (chlorine/bromine tablets) run out of your feeder so that no chemicals are left in it. Leaving chemicals in your feeder over the winter can cause damage to it and other equipment.
You will now be able to drain your chemical feeder.
If you put all the plugs that you have removed into the pump strainer basket, they will be easily found in the spring.
It is a good idea to take the pressure gauge inside for the winter because water collects in its tube which can freeze and cause breakage.
Do not put the plugs back on the equipment. If the equipment should get water in it, the plugs will prevent proper drainage.
The final step is to cover your above ground swim pool to keep out the debris.Solid covers keeps out all debris and sunlight. This will keep the pool totally clean and prevent most algae growth.
Categories:
Landscaping Services
With Daniel's Lawn & Garden Landscaping services we can help you create your ideal outdoor living space. Let our expert staff show you how!
Our Landscaping Service includes:
Residential and Business Projects
Creation and Installation of Garden Beds, Walls, Walkways, and Patios.
Installation of Trees, Shrubs
Grading, Seeding, and Installation of Lawns
Above Ground Pool Installation
We are ICPI certified, fully insured, and offer FREE ESTIMATES. References available on request.
PA Contractor License #PA013212
If you are interested in developing a 'do it yourself' project, then consider our new in-house landscaping design program. We'll provide you with the guidance and direction to do it right the first time. Contact our staff to schedule a 30 minute in-store consultation. We also offer other home improvement project services…please inquire and we can help you with your needs.
Our landscaping services are available throughout Bucks, Montgomery, Chester, Lehigh and Berks Counties and not limited to the following areas: Harleysville, Skippack, Trappe, Collegeville, Perkasie, Souderton, Telford, Vernfield, Schwenksville, Red Hill, Green Lane, Pennsburg, Sellersville, Dublin, and Quakertown.
Our finished project gallery will be available on our website in the near future.
Categories:
Temperatures Soar and Color Sizzles
Some plants thrive as summer heats up. If your perennial beds lack color, try a few of these plants that flower through sweltering August afternoons. All are drought-tolerant once established.
Black-eyed Susan (Rudbeckia spp.) brightens the garden with cheery yellow blooms perfect for cutting. It's a good choice for a wildlife garden. Flowers beckon butterflies; seed heads are a goldfinch favorite.
Russian sage (Perovskia atriplicifolia) unfurls silvery foliage accented with lavender blooms. Plants are deer-resistant.
Threadleaf tickseed (Coreopsis verticillata) opens daisylike blooms in shades of yellow, white, or pink. Low-maintenance plants have fine foliage and open flowers steadily until frost.
Yarrow (Achillea) sounds a steady note of drought-resistant color in the summer garden. Look for flowers in many shades, from white, to red, to peach, to yellow.
Test Garden Tip: Even the most reliable summer bloomers stage a stronger show when you faithfully remove faded flowers.
August Watering Tips
Water plants a few hours before applying pesticides, especially during times of drought. In these conditions, plants have less water in tissues, and as pesticides enter cells, they may burn leaves.
Avoid watering during midday, when more water will evaporate than soak into soil.
It's not uncommon for plants to wilt on hot afternoons even though soil has adequate moisture. The wilting occurs because plants are losing water faster than their roots can absorb it. Leaves should revive by early evening, after the sun is no longer directly on leaves. If not, water deeply.
Some shrubs need weekly deep watering now. Rhododendrons are beginning to form flower buds for next year's show, and adequate water is vital. Fruiting plants, such as hollies and firethorn, need water to ensure berries mature and don't drop.
Test Garden Tip: Water newly planted trees, shrubs, and perennials — any plants you added to your yard last fall or spring. These plants need weekly irrigation to ensure roots establish deeply.
Garden-Fresh Flavors from the Herb and Vegetable Garden
Peppers: Pick peppers at any stage of development. The longer fruits stay on a plant, the more intense flavor becomes — sweet peppers grow sweeter, and hot peppers develop a stronger burn.
Herbs: It's best to pick herbs before they flower. Harvest herbs on a dry morning, after dew has dried. The exception is mint, which you want to pick at midday, when essential oil concentrations in leaves are greatest. Avoid harvesting herbs following a rain, when foliage is wet.
Tomatoes: Even though tomatoes continue to ripen after picking, fruits develop greatest flavor when allowed to ripen on plants. The exception is cherry tomatoes, which are prone to splitting. Pick these tasty morsels as soon as fruits start showing color.
It's Time to Stop…
Fertilizing roses. Stop feeding roses this month so that growth can harden sufficiently before killing frost arrives. This will help reduce the amount of winter kill.
Pruning evergreens. As August arrives, put away the pruners as far as evergreens are concerned. If you prune now, you risk plants pushing new growth, which won't harden off and will be killed during winter's chill.
Ignoring zucchini. Daily inspections of squash vines are a must. In August heat, small, tasty fruit can transform into inedible baseball bats overnight.
Composting weed seeds. Unless your compost pile gets hot enough to kill seeds, it's best to destroy weeds with seed heads. If your town has a community composting facility, place seedy weeds at the curb. The community compost will be hot enough to kill seeds.
August Garden Chores for the Northeast
Pull annuals that are past their prime and aren't likely to recover. Cover bare soil to deter weeds.
Take cuttings of plants you want to overwinter. Choices may include fuchsia, scented geranium, coleus, or wax begonia. Stick 3- to 4-inch green stem cuttings in soil. Place pots in a shaded spot, and keep soil moist.
Make sure mower height is raised so you're cutting grass higher. When grass is taller, it shades soil beneath, which reduces water evaporation from soil. Taller grass generally has deeper roots, which helps it withstand drought better.
September is peony planting time. That means August is the month to order peony roots. You should have peonies in the ground about a month before the average first frost date.
Categories:
Gardening in July: This is one of the most productive months in the garden, but there's still time to plant and plenty to enjoy
Perennials
Keep up with deadheading bedding plants, sweet peas and roses. The flowers on dahlias will need to be cut off once they've started to fade.
Many of the traditional English cottage perennials such as lupins, delphiniums and geraniums are starting to look past their best now so cut them right back down and they'll resprout. They may not flower again but they'll look a lot better.
Water and feed everything regularly, especially tomatoes, to avoid problems. Also tie them in to their canes and pinch out the side shoots if necessary.
The last sowing of French beans and carrots can be done now. Transplant purple sprouting broccoli and winter leeks to their final position, or buy them as plugs from a garden center or nursery.
Keep sowing seeds for salads, a few at a time, as well as autumn crop peas, turnips and spring cabbages.
Keep an eye on apples and plums to make sure there are not too many on each stem and thin out if necessary – just three or four is enough.
There should still be some strawberries ripening. Check there is enough straw under the plants to keep fruit off the soil. If you've been pegging down the strawberry runners, by now they should have formed enough roots to enable you to transplant them, either to pots to keep safe until they can be put in the ground, or straight into a new strawberry bed.
Harvest
Strawberries and other soft fruit should be ripe and ready to collect now.
Pick and freeze or dry herbs so they can be used later.
A lot of the earlier-sown vegetables will be ready in July, for instance peas and broad beans, French and runner beans, globe artichokes, carrots and beetroot.
Keep an eye on fruit; cherries, peaches, gooseberries, raspberries and early plums are really starting to ripen.
Watering
This is something that's easy to do, but easy to get wrong, and often the main problem is under watering. If you spray an area of planting for one minute and move on, the water is unlikely to have gone deeper than a few millimeters into the soil, so won't have penetrated anywhere near the roots.
You need to water like a rain cloud. One way to test this is to put a jam jar in among the plants you're watering and stop when there's about 2cm of water in the jar. That's likely to take about 10-20 minutes on each area, which is understandably daunting. It's one of the reasons why leaky hose systems, which deliver water to the soil via a porous hose and operate at the turn of a tap, are so appealing.
It's a good time to get rid of strongly growing perennial weeds such as ground elder and bindweed. Use a systemic weed killer such as glyphosate that will enter the weed through its leaves and should kill it off.
Roses
July in rose-growing circles is known as the month for black spot. If you find it, remove the affected leaves and spray the plant with fungicide. The same goes for another fungus, mildew, which can also become a problem in July if the roses are stressed by having too much or too little water. Try to spray the fungicide early in the morning so you don't affect any bees that might be buzzing around the plant. Finally don't forget to deadhead the roses to keep them flowering.
Lawn
Keep mowing the lawn if it's not parched and, if it's looking tired, July is the last opportunity to apply a summer fertilizer. If it's dry you may need to water your lawn. Use a specialist lawn weed killer if necessary.
Hedges
If you have a conifer hedge, especially a leylandii one, keep a close eye on it at this time of year for cypress aphids. It's difficult to see the aphids themselves so look for brown patches in the hedge and a black sooty mold along the stem. If you find it, the best thing to do is prune out any brown shoots and spray affected areas with pesticide.
Deadheading bedding plants and border perennials is important to keep your displays looking fresh and tidy. Get more flowers in borders, containers and hanging baskets by adding a liquid feed once a week.
IF YOU ONLY DO ONE THING…
…Go into borders, lift leaves and have a look around. Often it's not a good idea to go looking for problems, but in the garden it pays to have a rummage, as the fresh growth of the past months can hide and feed pests, and weeds can grow unseen under it.
Categories:
Tree Watering
Tree watering is a key part of tree care and it is difficult to recommend an exact amount due to the varieties of climates. But a few guidelines will help you to water your trees properly.
Watering Newly Planted Trees: For new trees, water immediately after you plant a tree.
Watering Trees During First Two Years: During the first couple growing seasons, your newly planted tree is expending a lot of energy trying to get its roots established in the soil. Especially during the first few summers of your new trees life, it will have a difficult time dealing with heat and drought. You can make this easier by providing water and covering the soil with wood-chip mulch. Deep watering can help speed the root establishment. Deep water consists of keeping the soil moist to a depth that includes all the roots.
How Much Water and When: Not enough water is harmful for the tree but too much water is bad as well. Over-watering is a common tree care mistake. Please note that moist is different than soggy, and you can judge this by feel. A damp soil that dries for a short period will allow adequate oxygen to permeate the soil.

As general rule, your soil should be moist. Usually 30 seconds with a steady stream of water from a garden hose w/ a diffuser nozzle per tree seedling is sufficient. Mulching is also key in retaining moisture in the soil.

You can check soil moisture by using a garden trowel and inserting it into the ground to a depth of 2″, and then move the blade of the trowel back and forth to create a small narrow trench. Then use your finger to touch the soil. If it is moist to the touch, then they do not need water.

Watering Trees After the First Two Years: After your tree has been established in your yard for two years the roots will be established. This will allow your tree to withstand a wider range of water conditions including on its own because it has a proper root structure.
Drought-Tolerant Species
If your area constantly deals with drought you will want to consider trees listed as drought-tolerant. These trees are adapted to sites in their native habitat that regularly experience prolonged dry spells. Although they are native to drought and are more tolerant than others the first few years of life is critical to the survival of the any tree and follow the steps above will help your trees grow.
Some Drought-Tolerant Species Include
Thornless Honeylocust (Zones 3 to 9)
Arizona Cypress (Zones 7 to 9)
Japanese Zelkova (Zones 5 to 8)
White Fir (Zones 4 to 7)
Kentucky Coffeetree (Zones 3 to 8)
High Soil Moisture-Tolerant Species
On the opposite side of the spectrum if your area deals with a large amount of moisture or wet conditions here are a few trees that will do better in wet conditions.
Baldcypress (Zones 4 to 10)
Shellbark Hickory (Zones 5 to 8)
Red Maple (Zones 3 to 9)
Silver Maple (Zones 3 to 9)
Paper Birch (Zones 2 to 7)
River Birch (Zones 4 to 9)
Weeping Willow (Zones 6 to 8)
Categories: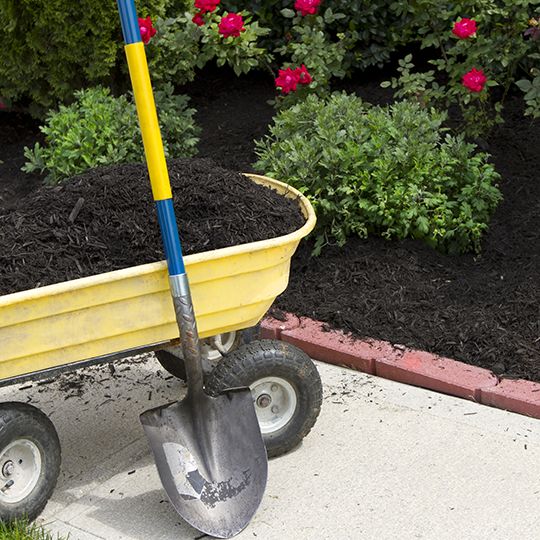 Mulching is a must for every yard. A properly applied layer of mulch provides a wealth of benefits to a landscape by suppressing weeds, enriching the soil, preventing moisture loss, regulating soil temperature, and more. Read on to learn five mulching tips that can help improve the health of your plants and soil.
1) Weed First
Mulch smothers weeds from growing by blocking their access to sunlight. Already existing weeds, however, can still grow without sun, so pull all weeds by the root in the area before applying mulch.
2) Winter Warning
Lawns often experience frost heaving in the winter. This is the process of the soil freezing and then thawing out, which causes a gradual expanding and contracting motion. This means that the soil swells and pushes out plants, exposing the roots to freezing temperatures. Mulching with evergreen boughs, chopped leaves, or straw can help keep your soil stay frozen until the final thaw at the beginning of spring.
3) The Rule of Trees
While gardens require the entire plant bed to be mulched, trees have different needs. An individual tree on your lawn should have a circle of mulch surrounding it. Start with a circle that measures 2′ in diameter and continue to add mulch as the tree grows, gradually increasing the size of the mulch circle. Make sure that the mulch does not touch the base of the tree trunk, though, as this traps moisture and invites disease and pests. The same goes for flower stems.
4) Depth Control
Generally speaking, the layer of mulch you apply should be about 2″ to 3″ thick. If your mulch is less than 2″ deep, it is less capable of retaining moisture. Any deeper than 3″ and the mulch will prevent plant roots from accessing sun, air, water, and other nutrients it needs. Too thick of a layer can also result in your plants taking root in the mulch instead of the soil.
5) Newsflash
Believe it or not, newspaper is an effective mulching material. It's great for smothering weeds by blocking the sunlight. It then decomposes into the soil (don't worry, it's non-toxic). Just cover a layer of newspaper with a more attractive organic mulch, like wood chips or bark, and enjoy your weed-free garden.
Categories:


There is no season when such pleasant and sunny spots may be lighted on, and produce so pleasant an effect on the feelings, as now in October.  ~~Nathaniel Hawthorne
Happy October!
This month we welcome fall, celebrate the harvest, decorate and carve pumpkins for Halloween, and create all sorts of yummy recipes with them. The worst of summer's heat should be over and cooler temperatures heading our way.
October is a great month in the garden too! It's a great time to take a fresh look around your garden, find tired perennials that need to be cleaned up, or divided and transplanted.  Do you see spots that could use brightening up with annual color? Do you have herbs that you'd like to harvest and preserve to use in the winter? Now is the time!
Replace your summer color with cool season annuals. Decorate your entryway with containers of mums and asters accented by colorful pumpkins and gourds and enjoy the beautiful weather. When you stop by our garden center, let us show you plants that have great fall color, berries, and flowers. Plant those now to enjoy in fall for years to come.
Take this helpful checklist with you into your garden:
October Garden Checklist:
Divide perennials and replant them; cut back faded blooms and dead foliage
Fall is for planting – plant new perennials, trees and shrubs
Transplant existing trees and shrubs as needed
Plant cool season annuals like African daisies, sweet peas, pansies and snapdragons– remember to water them regularly while temperatures are still warm
Also plant cool season edibles like lettuce, spinach, cabbage, carrots, peas, broccoli, and cauliflower
Plant bulbs now for a brilliant spring show
On your porch and patio –protect your furniture and grill. Slip-on covers will protect them during the winter
To add color throughout the winter, place brightly colored container gardens filled with annuals throughout your garden.
Categories:
New item for fall! Pumpkin chimeneas! Stop by to see our unique selection of this new product line now available at Daniels!