Categories: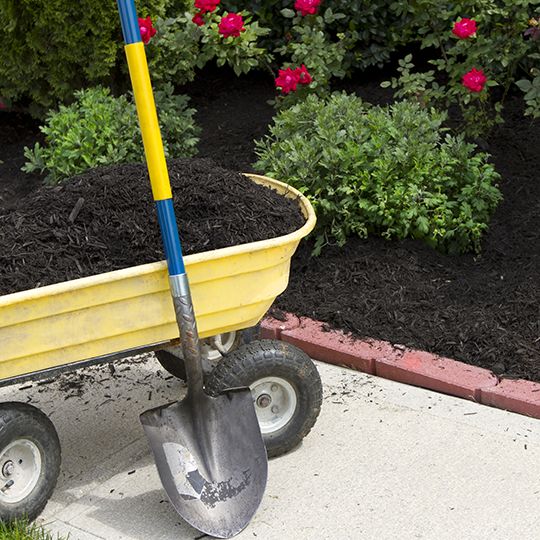 Mulching is a must for every yard. A properly applied layer of mulch provides a wealth of benefits to a landscape by suppressing weeds, enriching the soil, preventing moisture loss, regulating soil temperature, and more. Read on to learn five mulching tips that can help improve the health of your plants and soil.
1) Weed First
Mulch smothers weeds from growing by blocking their access to sunlight. Already existing weeds, however, can still grow without sun, so pull all weeds by the root in the area before applying mulch.
2) Winter Warning
Lawns often experience frost heaving in the winter. This is the process of the soil freezing and then thawing out, which causes a gradual expanding and contracting motion. This means that the soil swells and pushes out plants, exposing the roots to freezing temperatures. Mulching with evergreen boughs, chopped leaves, or straw can help keep your soil stay frozen until the final thaw at the beginning of spring.
3) The Rule of Trees
While gardens require the entire plant bed to be mulched, trees have different needs. An individual tree on your lawn should have a circle of mulch surrounding it. Start with a circle that measures 2′ in diameter and continue to add mulch as the tree grows, gradually increasing the size of the mulch circle. Make sure that the mulch does not touch the base of the tree trunk, though, as this traps moisture and invites disease and pests. The same goes for flower stems.
4) Depth Control
Generally speaking, the layer of mulch you apply should be about 2″ to 3″ thick. If your mulch is less than 2″ deep, it is less capable of retaining moisture. Any deeper than 3″ and the mulch will prevent plant roots from accessing sun, air, water, and other nutrients it needs. Too thick of a layer can also result in your plants taking root in the mulch instead of the soil.
5) Newsflash
Believe it or not, newspaper is an effective mulching material. It's great for smothering weeds by blocking the sunlight. It then decomposes into the soil (don't worry, it's non-toxic). Just cover a layer of newspaper with a more attractive organic mulch, like wood chips or bark, and enjoy your weed-free garden.
Categories:


There is no season when such pleasant and sunny spots may be lighted on, and produce so pleasant an effect on the feelings, as now in October.  ~~Nathaniel Hawthorne
Happy October!
This month we welcome fall, celebrate the harvest, decorate and carve pumpkins for Halloween, and create all sorts of yummy recipes with them. The worst of summer's heat should be over and cooler temperatures heading our way.
October is a great month in the garden too! It's a great time to take a fresh look around your garden, find tired perennials that need to be cleaned up, or divided and transplanted.  Do you see spots that could use brightening up with annual color? Do you have herbs that you'd like to harvest and preserve to use in the winter? Now is the time!
Replace your summer color with cool season annuals. Decorate your entryway with containers of mums and asters accented by colorful pumpkins and gourds and enjoy the beautiful weather. When you stop by our garden center, let us show you plants that have great fall color, berries, and flowers. Plant those now to enjoy in fall for years to come.
Take this helpful checklist with you into your garden:
October Garden Checklist:
Divide perennials and replant them; cut back faded blooms and dead foliage
Fall is for planting – plant new perennials, trees and shrubs
Transplant existing trees and shrubs as needed
Plant cool season annuals like African daisies, sweet peas, pansies and snapdragons– remember to water them regularly while temperatures are still warm
Also plant cool season edibles like lettuce, spinach, cabbage, carrots, peas, broccoli, and cauliflower
Plant bulbs now for a brilliant spring show
On your porch and patio –protect your furniture and grill. Slip-on covers will protect them during the winter
To add color throughout the winter, place brightly colored container gardens filled with annuals throughout your garden.
Categories:
New item for fall! Pumpkin chimeneas! Stop by to see our unique selection of this new product line now available at Daniels!